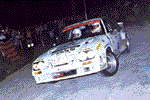 SALVADOR SERVIÀ, Catalan throughbred was born in Pais, in the neighborhood of Gerona, on 29 June 1944. The wonderful driver career, lived through alternating official teams, placed him, among names of the calibre of CARLOS SAINZ, GENITO ORTIZ and ANTONIO ZANINI, in Mount Olympus of the stronger Spanish drivers, those that, to be clear, with cars of group B were able to obtain large results in the fought European rallies. On 29th June 1968, at the age of 24 years, he begins to race on a SEAT 124-road version, showing acrobatic qualities of guide. Although this, it is necessary to wait until 1984 in order to see SALVADOR SERVIÀ winning. The occasion to win comes from "the wizard" VIRGILIO CONRERO, which put him to disposition a OPEL MANTA 400 to dispute the entire Spanish Championship and award himself the second place end.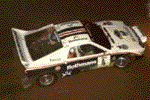 During that season, SERVIÀ in several occasions manages to being faster than the winner OGNORO, also him on board of a OPEL MANTA 400 Group B, what this that allowed him to become official LANCIA driver for the two successive seasons. 1985 and 1986 are for the strong Catalan two years lived to the maximum. With the LANCIA RALLY 037, followed directly from Italian JOLLY CLUB rally team, before with ROTHMANS and then with LANCIA RACC colors, he obtains an historical double success in the Spanish championship as crowning-piece of a career always at the "top". He obtains striking successes in prestigious rallies which the RALLY of MADRID, COSTA BLANCA, RALLY de ASTURIAS and, to end, a splendid eighth place end at the RALLY MONTE CARLO 1986 after the stronger drivers of the world and a first place end among the two wheel drive cars.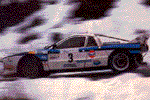 After the retirement of the group B cars, SERVIÀ continues to compete in Spain with group A cars like VOLKSWAGEN GOLF GTI and LANCIA DELTA INTEGRALE, obtaining still discreet results, but no more clamorous successes. SERVIÀ in the last years of his career disputed some races of the SPANISH CHAMPIONSHIP GRAVEL and raid contests in Africa like the RALLY of the PHARAOHS and the PARIS-DAKAR, defined from the Catalan - very beautiful because it gives you the possibility to race for kilometers and kilometers without pause -.
SALVADOR SERVIÀ today doesn't race any more. The Spanish rallyman must be remembered, beyond that for his liking and generosity, for his "lead" foot. Spectacular on OPEL MANTA 400, invincible on the LANCIA RALLY 037, fast on the DELTA INTEGRALE but also unlucky, being not able to emerge in the World Rally Championship, as instead was able to do the compatriot and rival competitor CARLOS SAINZ, multichampion of the world and still today at the top of rallysm.
*** BACK ***