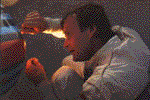 The first contest of the 1983 season is opened, by tradition, with the RALLY of MONTECARLO. The LANCIA race team enter 3 official crews: Alen-Kivimaki, Roehrl-Geistdorfer, who had just left OPEL, and Andruet-Biche. A fourth "037" races with the crew Serpaggi-Neri. The result, against any forecast that saw the AUDI favorite, is clamorous: Roehrl and Alen respectively at the first and second place end. The improvement of the "037", obtained in spite of the short time afforded by the agonistic calendar and also the fact that this World event, a typical winter race, is carried out on totally unsnowy roads, thing that does not happen often at the "MONTE", exalts the success of the LANCIA drivers, that becomes really shocking. With Andruet that is authentically spectacular, after having been delayed from by a compressor breach (he finishes 8th), they prevail in over the 70% of the special stages.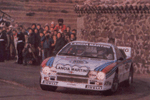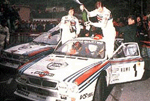 LANCIA's supremacy is also fruit of Cesar Fiorio acute direction; having an efficient reconnaissance service, he manages to minimize the advantage of "AUDI QUATTRO" over the "037" in the key points of the contest where the "QUATTRO", thanks to the four wheel drive, could go all out.
Key factor in this game is the employment of studded tyres on the rear wheels only. The LANCIA team mechanics are outstanding for the speed with which they carry out tyre changes.
In the side photos a splendid passage of Walter Roehrl, the second place to Markku Alen and the LANCIA-MARTINI podium. Here below, the comment of the "Gazzetta dello Sport" about the "037" win.